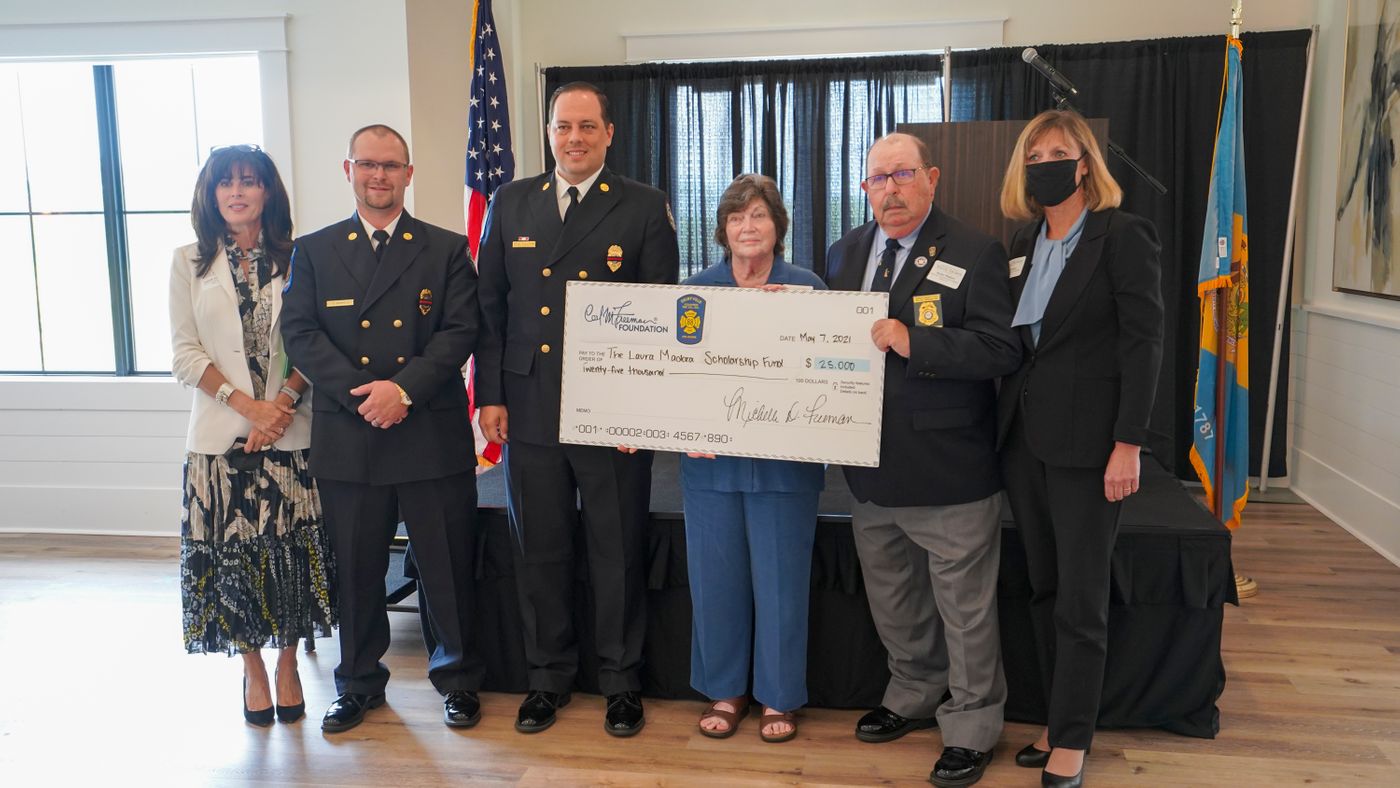 Scholarship established to honor volunteer fire company member who died in the line of duty
The Carl M. Freeman Foundation in partnership with Selbyville Volunteer Fire Company recently announced a $25,000 scholarship in memory of Laura Madara, the Selbyville VFC member who died while responding to a vehicle accident on April 9.
The Laura Madara First Responder Endowed Scholarship was announced at the Bethany-Fenwick Chamber of Commerce's 2021 Joshua M. Freeman Valor Awards on Friday, May 7. The annual scholarship will be administered by Delaware Technical Community College and will be for Sussex County women who are interested in pursuing a career or volunteer as a first responder. The Carl M. Freeman Foundation is funding $15,000 and the Selbyville VFC has committed a $10,000 match.
Female students in the Emergency Medical Technician — Basic Certification Course or taking courses in Criminal Justice, Emergency Medical Technician, Homeland Security and Emergency Management or Law Enforcement Option programs at Delaware Tech will be eligible for the scholarship.
"Laura had a passion for the state of Delaware and our parks," her father Kenneth Madara said. "We love the idea of creating a lasting memory of Laura through the ability to help women follow in her footsteps and work to help our citizens and visitors enjoy all that Delaware has to offer."
As a member of the SVFC, Madara served as fire police and president of the Ladies Auxiliary. She worked with Delaware State Parks for almost 30 years as an enforcement officer at Brandywine Creek State Park and an assistant park superintendent at several state parks. She was involved with the 4H Club, was a site supervisor for Worcester Commission on Aging and helped at the Senior Center in Ocean City. She worked with Safe Kids, was a CPR Instructor and a member of the Sussex County and Delaware State Fire Police Association.
The Carl M. Freeman Foundation Board of Trustees were inspired to honor Madara's passion for giving back and her service to the community via a scholarship that will continue this legacy.
"Throughout her life, Laura Madara was a shining example of what it means to serve your community," said Michelle Freeman, chairwoman and president of the Carl M. Freeman Foundation. "We hope this scholarship will leave a lasting legacy of what it means to help others and give Sussex County women the opportunity to continue to serve."
Matt Sliwa, president of the Selbyville Volunteer Fire Company, reiterated Madara's dedication to the service of others through the parks, fire service, law enforcement and many other avenues, adding the fire company is honored to help establish this lasting legacy.
"When presented with the opportunity to partner with the Carl M. Freeman Foundation on this scholarship our members jumped at the idea," he said. "We are honored to help create a lasting legacy of Laura and the work she did for our great state by creating this endowed scholarship to help women start and further their careers in service to others."
The Carl M. Freeman Foundation commits its time, talent and treasure to facilitate, support and promote innovative community-based leadership and giving. We seek to honor our founders' legacies and passions by endorsing excellence and leveraging resources. Generally, we limit donations to communities where the customers, employees, and vendors of Carl M. Freeman Companies work, live and play.
Please visit www.carlmfreemanfoundation.org for more information about the Carl M. Freeman Foundation.